The Grands Bois
Joining our strengths and our passions by uniting a solid team that provides access to modern and spacious log homes that enrich experiences in nature. That's the mission at The Grands Bois!
A shared passion
Passionate about tourism and real estate, we had already been working for a few years on our respective condo and home renovation projects to provide access to spacious and affordable places to stay in.
When we saw one of our business partners build his first high-end log home that we had THE idea: join forces to provide the region with aw-inspiring accommodations.
Les Grands Bois is the junction between the luxury of modern architecture and the authenticity of the rustic side of nature. A project that brings together young entrepreneurs of the region with the goal of creating prestigious and warm rental places
An experienced team
We know all about tourist accommodation! We combine years of experience hosting hundreds of guests, and we've truly mastered the art.
A team of 7 dedicated members
7 years of experience in tourist accommodation
More than 1,500 satisfied guests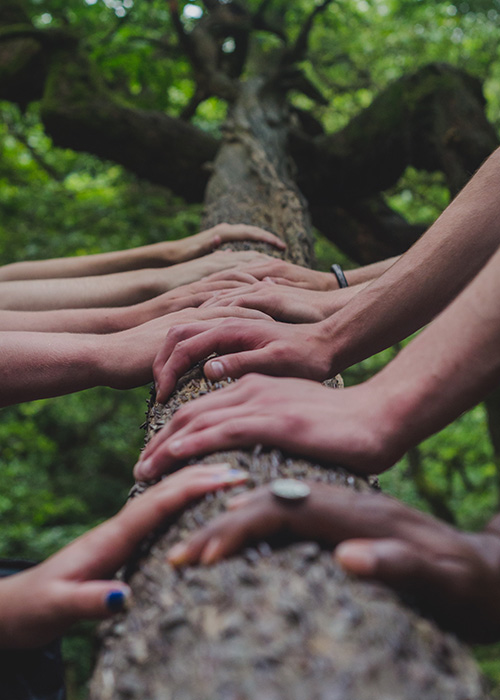 A big family
Our team brings together the expertise of seven entrepreneurs from the worlds of business, real estate and marketing. It's a collective that combines strengths acquired over years to provide you with impeccable service and tourist accommodation like you've never seen!

People with big hearts
We work very hard to provide you with outstanding service and cottages that meet or exceed your expectations, and we do that while having the time of our life!
As the saying goes, everything that deserves to be done deserves to be done well. This is why the quality of our constructions and services is paramount to us.
On top of prioritizing quality, we pay great attention to each and every detail to make sure that each of your visits to our cottages is an unforgettable experience!
The very reason for the existence of The Grands Bois to celebrate the importance of coming together for small and big occasions. All the reasons are good to celebrate with family, friends or colleagues!
The Grands Bois is first and foremost a big family. We are proud to be able to help create lasting memories and to count you among our guests of honor.
With Les Grands Bois, we have innovated by combining rustic construction with modern interior design, and we will continue to distinguish ourselves by offering unparalleled service.
Frequently asked questions
Loved & acclaimed